Rose Wins Individual 6A Title, but Oxford Boys Fall Short; Girls Finish Sixth
CLINTON – The Oxford boys cross country team found out the hard way that COVID-19 could be the difference between winning and losing a state championship.
Although the difference between first and second was a sizable 33 points, Matthew Singletary, Oxford's third best runner throughout the regular season, was in quarantine for the 6A State Meet and had to sit back at home in Oxford. Instead of scoring around 10 points, the Charger's next best runner scored 49 points instead – a difference of around 39 points and possibly pushing other runners to score a couple more points, including Pearl who ended up as the 6A State Champion with 59 points. Oxford finished runner-up with 92 points.
A bright spot for the day was that Oxford's Chase Rose won the Individual 6A State Championship with a time of 15:51.59. It was well short of the school record which was a personal goal entering the State Meet, but heading into the State Meet, it was almost a foregone conclusion, it was just a matter of running it and executing it on the Mississippi College course.
"Everybody knew what Chase was going to do," Oxford cross country coach Chris Patton said, who coaches both boys and girls cross country teams. "The key was (the fourth) and (fifth runners). That's the key in cross country. We knew our one, two, and three was going to come through, but the key was four and five and those guys stepped up and left it all out there on the line. That's all you can ask for as a coach.
"It's about the same margin," Patton continued on how Rose has raced this season in terms of how far in front he has been in nearly every meet this season. "Nobody is usually close to him at the mile (marker), nobody is usually close to him at the two-mile. After the two-mile, he already knows he's going to finish by himself. That's a testament to how hard he has worked over the course of the summer, during fall training, and now at the state championship. He's going to be fun to watch during basketball season and moving on to track season."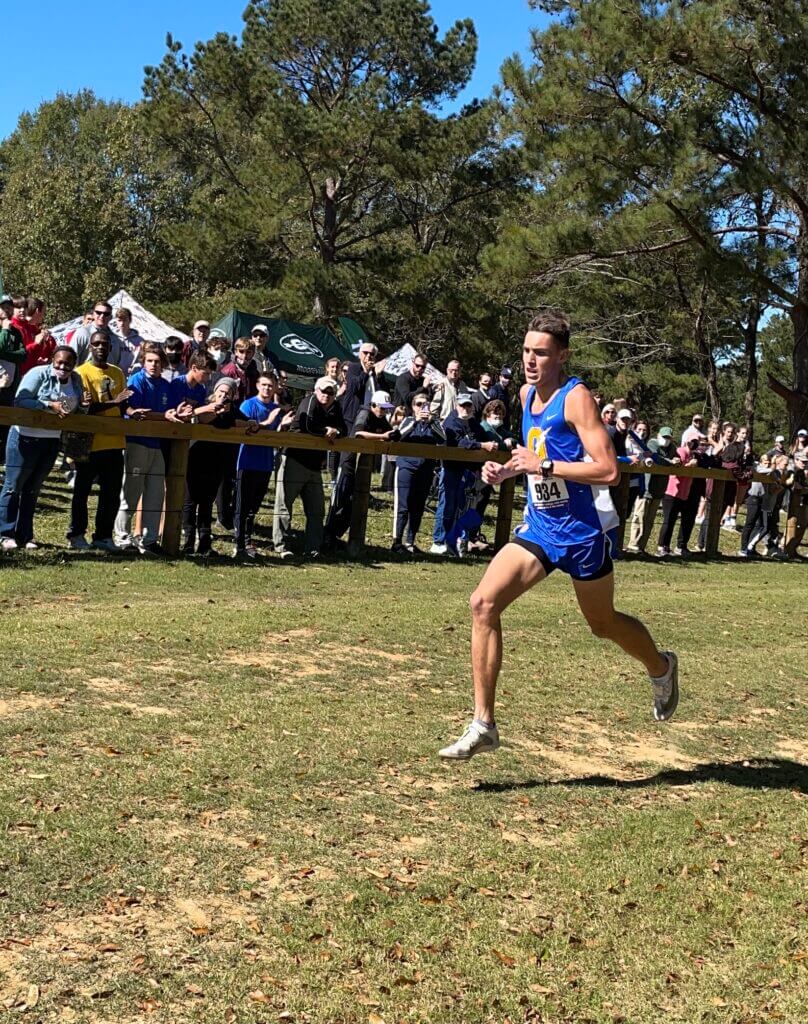 Luke Johnson (3rd, 16:30) and Ethan Knight (11th, 17:03) finished with All-State honors with Rose, with Johnson earning a bronze medal for his third place overall finish. Aiden Addy (29th, 17:32) and Tamon Matsumura (51st, 18:13) were the other scoring runners for Oxford. Brooks Austin (66th, 18:30) and Michael Cheng (74th, 18:49) also ran for the Chargers.
"I told them we just came to do what we have been doing and that we would run well and that's what we did for the most part," Patton said about the team effort. "We had some guys that had to step up because we did lose our number three. I can't say that wasn't a big key today, but it is next man up. Having the other guy step up bodes well for the future as well as moving into the track season."
The Oxford Lady Chargers were hampered with COVID-19 quarantine during the course of the season, but managed to finish sixth overall at the 6A State Meet despite the hurdles the team had to jump through midway through the regular season.
"The girls did great," Patton said about the team effort. "We had those two weeks off and not training really hurt them a lot. They came back with a great attitude, a great work ethic and we built up from that. They're young. We had one senior that ran this year on the girls team, so they'll be back, they'll be stronger. I'm looking forward with the future with the girls."
The Lady Chargers did not have a runner finish well enough to earn All-State honors, given to the top 14 runners of the race. Sparkle Caldwell led the Lady Chargers with a 24th place finish with a time of 21:51. Addie Grafton (36th, 22:43), Liana Logan (43rd, 23:06), Georgia Wiggington (56th, 23:36) and Payton Tulchinsky (62nd, 23:46) were the scoring runners for Oxford. Ada Grace Perry (77th, 24:15) and Madeleine Gaia (82nd, 24:43) also ran for the Lady Chargers.