BACK TO BACK: Regents Cross Country Reign Supreme Again
CLINTON – Last year, hardly anyone outside of those that attend the Regents School of Oxford knew that the boys Cross Country team won the MAIS 1A Championship.
They made sure their roar was heard this time.
Led by the trio of eighth graders in Joseph Skogen, Samuel Bryan, and Tristan Bryan, the Regents Lions defended their MAIS 1A Championship at the State Meet held at Mississippi College's Choctaw Trails Tuesday afternoon, holding off efforts from Desoto School and St. Augustine.
Warm temperatures played a role during the State Meet with an unusually warm 82 degrees during the meet as Desoto School started off the race giving Regents a run for their money, but the warmer meets Regents went to earlier in the season in September started to pay off as the Desoto School runners started to falter off during the second half of the five kilometer race. In ideal conditions, a fast race requires temperatures to be around 15-20 degrees cooler which normally aids in a runner's stamina to stay at a faster pace longer.
"Being in Oxford, it's not hard to find a hill in Oxford," Regents head coach Brandon Beckett said. "We do run hills. It's a little hilly here (at Choctaw Trails), that helps. We ran more early meets this year. We ran an August meet this year. We did more summer training than ever before. We ran three meets in September when it was still hot, and it paid off today no doubt.
"We put in the training," Beckett continued. "We run the hills, we ran in the heat, it got hot (Tuesday), and I think it actually ended up helping us today to finish the way we did. I'm very proud of those guys."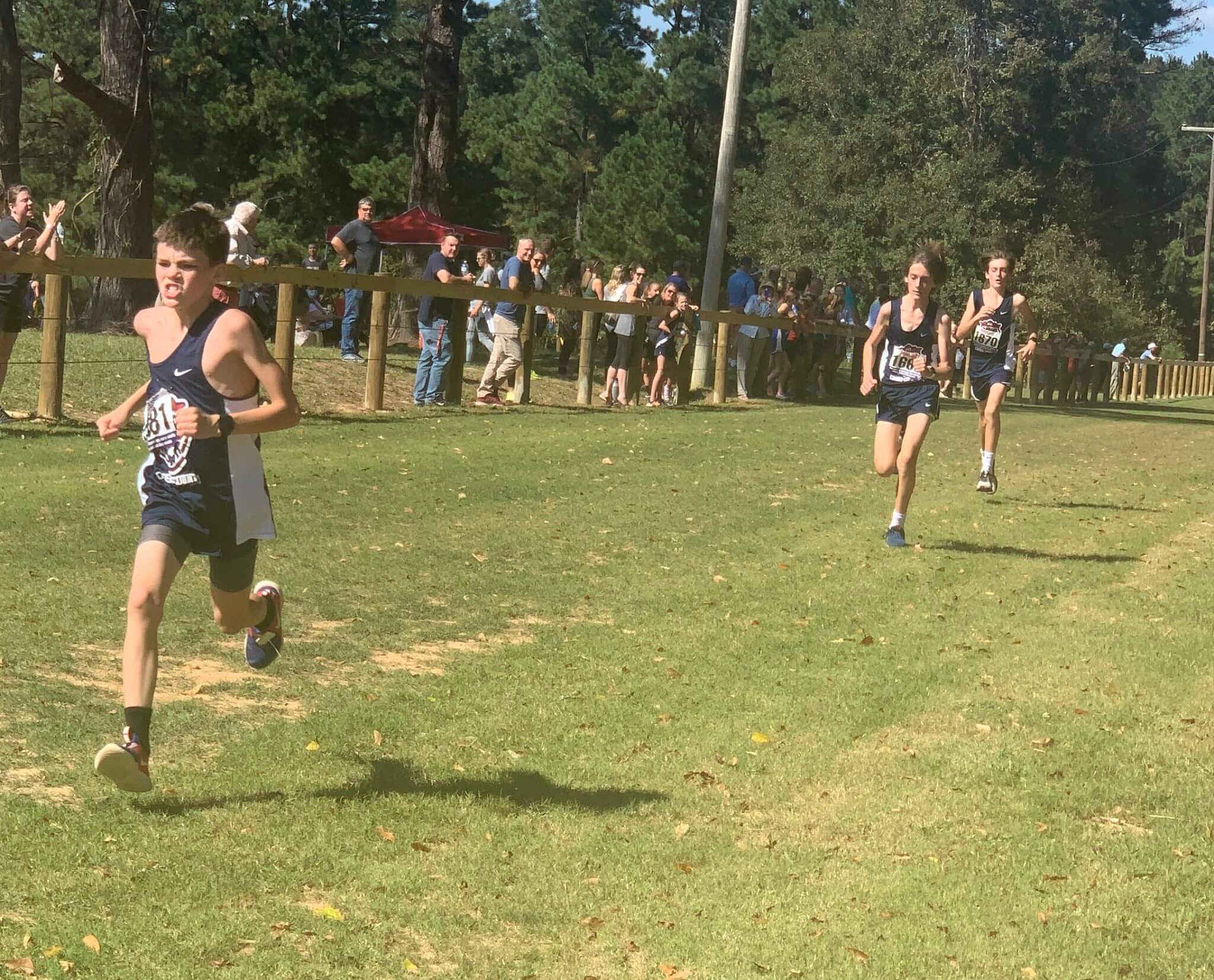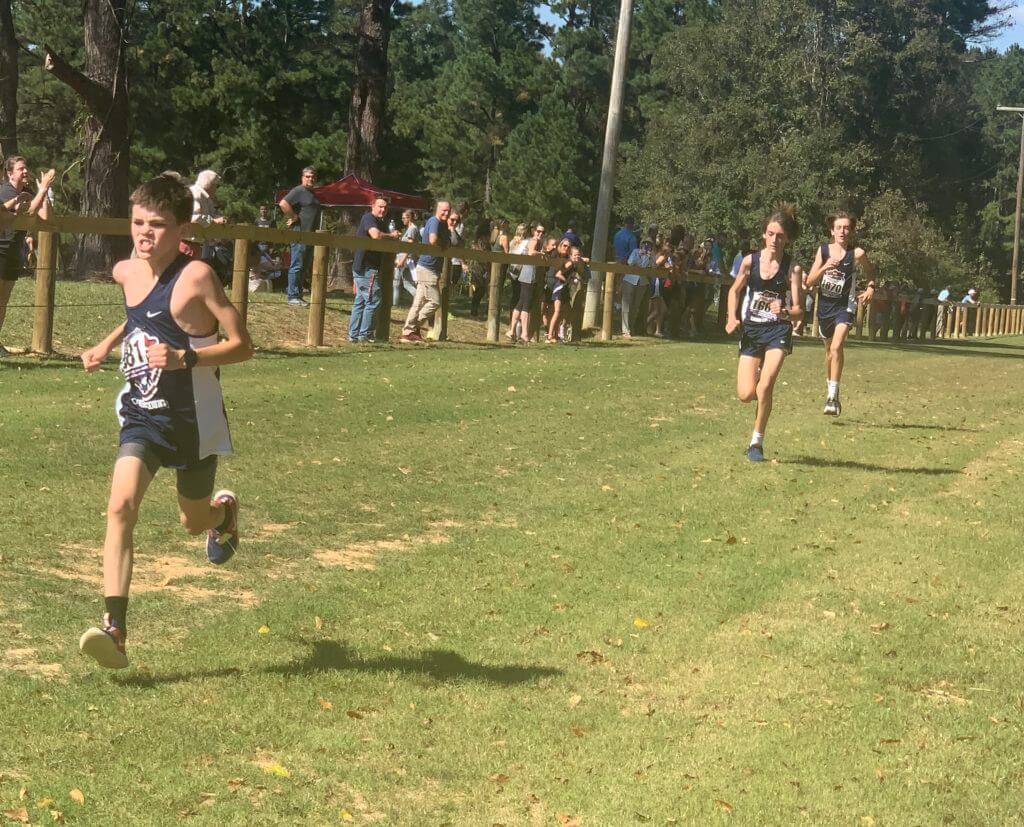 On paper, it looked like Desoto School had a shot of dethroning the defending champions, but as it always seems to be the case, the race still had to be run, and Regents was up to the challenge not just to match the pace the challenging schools were running, but they overcame the warm conditions the race presented to the State Meet.
"Those guys I told them coming in that it was going to be a dog fight," Beckett said. I told them up front that Desoto, they're not going to let you walk across the line. We had another team show up in St. Augustine that we really didn't know much about that ended up doing really well too. On the line, it looked like a really close competition."
MAIS 1A Girls State Meet
For the first time in school history, the Regents Lady Lions competed in their first State Meet, finishing in fourth place. In their first ever meet, the Lady Lions did have a runner finish All-MAIS in eighth-grader Lillian Graves. Graves finished ninth overall with a time of 25:35.45.
"Lillian Grace last year had only been running the JV race, the two mile race," Beckett said. "This was a step up for her to jump into the 5K event. We spent this whole pre-season trying to get her to that distance; trying to get her to run that distance. She worked really hard and did some sprint work-ins and different things. That's kinda her strength and kinda keep that speed aspect of it. She ran a great race."
Beckett believes just like the boys team have grown to be excited about the Cross Country program, the girls will have the same effect down the road.
"I think it'll grow like it did with the boys last year," Beckett said. "The school takes pride in it. More kids are going to be a part of it. It's really going to help our program."
The Extra Mile
Anna Turner (15th, 28:31), Rachael Prather (24th, 30:11), Sydney Grace Ottens (32nd, 31:25), Grafton Graeber (42nd, 32:58), and Ansley Wood (44th, 33:05) were the other top finishers for the Lady Lions.
Skogen (3rd, 20:13) was the boys top finisher and earned All-MAIS honors. Samuel Bryan (4th, 20:16) and Tristan Bryan (5th, 20:18) also earned All-MAIS honors along with sophomore Jayden Maten (10th, 21:32) who captured the last of the All-MAIS honors. Junior Rhodes Scott (17th, 22:36) rounded out the top five finishers to clinch the Championship for the Lions. Other scoring finishers for Regents included Ben Fuller (18th, 23:15) and senior Ethan Wood (19th, 23:17)
This is the second overall MAIS Championship in school history, both coming in boys Cross Country.