2021 Oxford Football Preview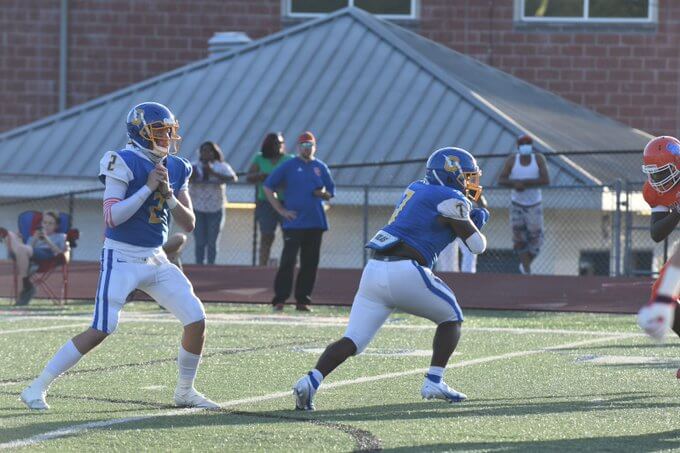 The Oxford Chargers have made it to the state championship game each of the last two years. Their schedule is set up to prepare them for a third run at the title game.
Oxford will host Brandon, travel to South Panola, and play 26-time Louisiana State Champion John Curtis Christian in the Battle at the Border in Shreveport, La., not to mention traveling to Lafayette for the 50th annual Crosstown Classic and 51st meeting overall. All to prepare in arguably the toughest division to get out of in 6A over the last few years to reach the playoffs. Oxford's new division in 6A has quite a bit of familiarity bringing Tupelo with them, Madison Central after meeting them multiple times in the playoffs, and playing Clinton for North Half last year, they also play former non-division rivals Starkville and Grenada in Division 2-6A this season.
The Chargers will return both quarterbacks in Trip Maxwell and Michael Harvey. Harvey ended up pulling away as the full-time starter in the playoffs, but Oxford coach Chris Cutcliffe will begin the season using the two quarterback system he used during the majority of the regular season.
"Both guys played well for us a year ago," Cutcliffe said. "Really pleased with where they are and their development and I'm looking forward to see both guys play at a higher level. You'll see both guys continue to get time on the field. They've earned the right to play."
Omar Howell and Roman Gregory will lead the experienced backfield for the Chargers and is expected to lead the offense to begin the year as Oxford lost every starting wide receiver from a year ago. Senior Tracey Harris is also expected to contribute in the backfield with Howell and Gregory. With regards to wide receivers, Cashe Shows received significant playing time during the spring game. Ashton Shorter, Calvin McGlown, Archer Murphy, Webb Murphy, Rush Harmon, Austin Smith, Vince Logan, and Dane Harmon are all competing for the starting positions and playing time at wide receiver. Cutcliffe likes using a variety of tight ends during the course of a season.
"I think you'll see different guys rolling in and out early in the season," Cutcliffe said about his wide receivers battling for starting positions by the time division play starts. "We're just trying to give guys an opportunity to show what they can do."
"We have two seniors at the tight end position who are guys that have been in our program for a long time, worked really hard and done a great job of being great teammates and doing what we've asked them to do," Cutcliffe said about his tight ends. "Jack Harper is a sophomore at the tight end position that's a three-sport athlete. He's a very talented young man; we're excited about what he brings to the table."
Down in the trenches, Oxford will lean on two three-year starters in Bryce Mullen and Stratton Smith on the offensive line. With the defensive line, Alex Samford moved positions from middle linebacker to defensive end and Cutcliffe typically rotates several lineman to rotate during a game.
"We have a couple other seniors who have been reserve role players early in their careers, but guys who are competing for playing time right now Hunter Beard, Reese Sams, and Tyler Smith are some guys that are really competing for playing time there amongst the senior class," Cutcliffe said about the offensive line. "We've got a good class of juniors and some young guys we are excited about too, so we've got a lot of depth there, a lot of guys competing for playing time."
"Malaki Pegues is a defensive end who's done a great job this spring and summer," Cutcliffe said about the sophomore. "Kylan Tumblin at nose and Josh Neilson is another senior defensive linemen. Trey Campbell has done some good things for us. Malik Bell, Jaheim Jones, we've traditionally played a lot of people on the defensive line and we plan on continuing to do that."
The move on Samford to the defensive line shows the amount of depth Oxford has a linebacker. Although Oxford lost Tristian Shorter to graduation, transfer senior Ben Goubeaux has stepped in along with Keegan Wilfawn to lead the players in the box.
"Demonte Mitchell (will be) stepping in to a starting role," Cutcliffe said about one of his starting linebackers. "He was our fourth linebacker last year in the box who played a good bit. At our outside backers, we have some seniors doing some good things in Chris Herring and Hayden Moore. We also have a move-in at outside backer in Martavious Blackmon. We've been really excited about him and what he's been able to do in the offseason.
In the secondary, EJ Wadley and Lucian Giles will be leading the way. On special teams, it will be the first time in the Cutcliffe era that two kickers will be used. Goubeaux will handle the punting duties while William Wilkinson will handle the place kicking and Giles will handle the long-snapping. Maxwell returns as the holder for field goals.
"At corner, Jamal Giles is a returning starter," Cutcliffe said about his other secondary players. "Ryan Kirkwood is a junior who had an outstanding offseason and we're excited about what he can do out there."
Oxford will play Horn Lake in their Jamboree at Bobbly Holcomb Field Friday, August 20 at 8 p.m. The Chargers will start the season at home against Brandon August 27.